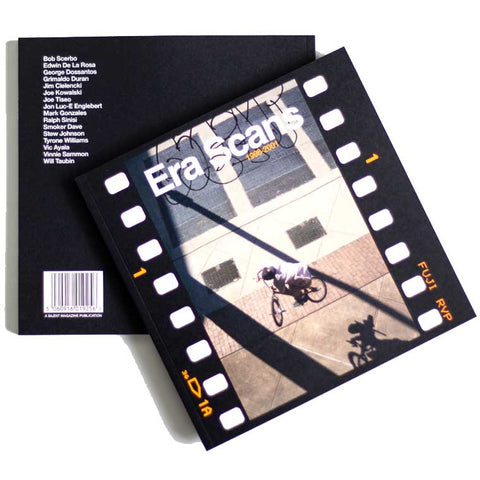 DESCRIPTION
"ERA Scans" 1998-2001 is a collection of scanned images from an age in bmx that was not only ground-breaking but highly influential from a street riding perspective. New York was a melting pot of culture and Jeff Z was right in the heart of it.
"As a bmx rider and fledgling photographer growing up in northeast new jersey around the turn of the century, I was fortunate to be at the epicenter of a burgeoning street riding scene. From ANIMAL BIKES and BASE BROOKLYN, to finding shade with the SOMBRA crew in Arizona, I cut my teeth as an aspiring bmx photographer documenting a slew of insanely progressive riders between 1998 to 2001.
Being the heyday for print publication, there were eight or so bmx magazines in circulation. If the trick was pulled and the photo turned out right, off it went sandwiched between two pieces of stiff cardboard in an envelope marked do not bend.
That freelance contributing photographer hustle continued until the fall of 2001, when i landed a full-time position at RIDEBMX magazine and moved to California. ERA Scans is a collection of what i assume to be unseen photos shot prior to that pivotal moment in my career."
- Jeff Zielinski
"ERA Scans" is 100 pages, features over 30 unseen scanned negatives and is printed on uncoated paper sourced with a minimal environmental impact.
Cover: Bob Scerbo