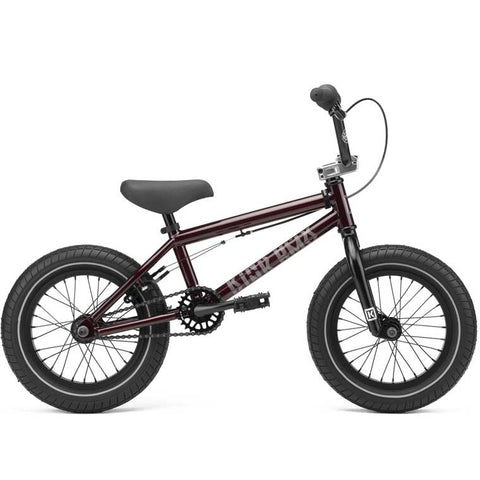 Kink Pump 14" 2023
$289.95
Options:
gloss digital maroon
DESCRIPTION
While 14" bikes are not all that common, the Kink Pump 14" bike fills an important role in our lineup. Kids are not only getting into BMX at an earlier age, they are also progressing at an even earlier age and for that need a proper fitting bike as they grow. The Pump 14" fits perfectly between 12" and 16" bikes and is built with proportionate geometry and components suited to this age and height rider. Small details like the Mission Micro brake lever are considered carefully to ensure everything is of proper fit and function on this bike. The reduced angle of the Weider seat also means kids can sit down and ride comfortably
The Gloss Digital Maroon colorway is a custom take on a great color that you really can't go wrong with, and the reflective strip tires add a fresh look to the bike with the bonus of some added safety. The 6" rise T600 bars, 14" Lance forks and Pump frame all feature geometry tailored just for this 14" bike to fit the rider who's outgrown their 12". Component wise, the Kink Pump is truly a legitimate BMX bike with a Mission Function cassette rear hub, Mission Tracker 2.25" tires, and updated Mission Cease V2 brakes
Top Tube 14.5"
Rear Triangle 10.25"
Head Tube 74
Stand Over 6.5"
BB Height 8.75"
Fork Kink 14" Lance Fork 100% Hi-Ten Steel Tapered Fork Legs"
Fork Offset 32mm
Handlebars Kink T600 Bar 6" 100% Hi-Ten Steel
Grips Mission Micro Grips
Stem Mission Topload 40mm
Headset Standard 1 1/8"" Threadless Headset
Brake Lever Mission Micro
Cable Type Linear
Brakes Mission Cease V2
Cranks Forged 1pc 114mm
Drive Side Option RHD
Bottom Bracket Unsealed American
Pedals Mission Junior Pedals
Chain Mission 410
Sprocket Mission Rank 25T
Hubs Mission Reserve Unsealed 3/8" Axle / Mission Function Semi-Sealed Cassette 14mm
Driver 9 Tooth
Rims Mission X7 / Mission X7 Single Wall
Seat Mission Weider Combo Seat
Post Diameter 25.4mm
Tires Mission Tracker 14x2.25